How we created over 10,000 personalized graduation videos in one month
By April of 2020…
the ongoing COVID-19 pandemic had set the stage for students around the world to miss out on an important rite of passage — their graduation ceremonies. Motifmotion recognized the problem, and quickly realized we could help.
By leveraging our proprietary personalized media technology, our team moved fast — building a personalized virtual graduation platform for students and institutions. By the end of our campaign, we delivered two dozen virtual ceremonies, consisting of more than 10,000 personalized student videos.
Watch the promotional video we created, and read on to see how we designed and delivered the full campaign.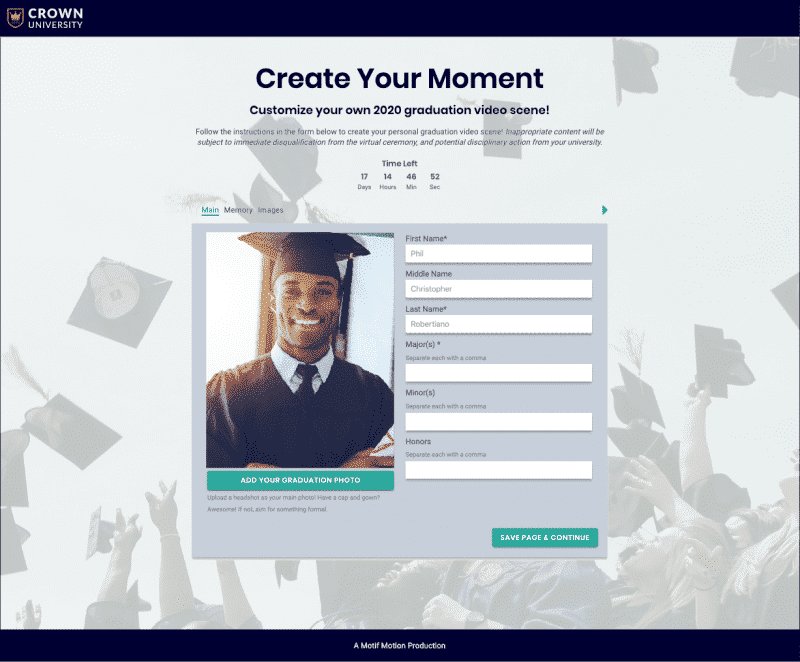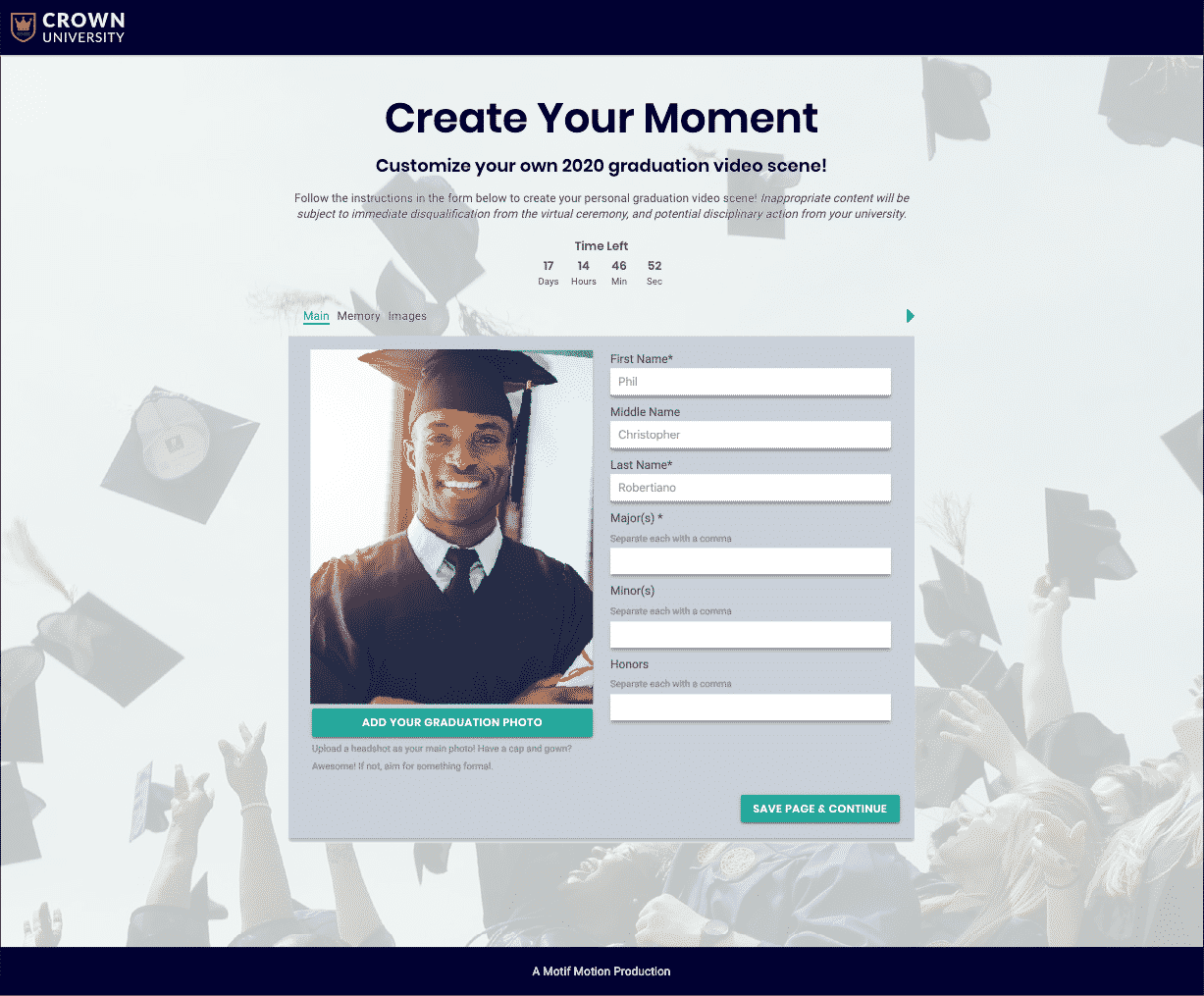 Step 1: A web portal
The first step was rapidly designing, developing and launching a web portal.
In the portal, students would login to create and personalize their own animated slides — by inputting pictures, texts, quotes, and videos.
The portal itself was fully customizable by each institution; including the visual branding, the types of questions asked and the preferred level of student involvement.
Step 2: A dynamic video template
Recognizing that each institution might desire different elements, we also designed a deeply customizable video template.
Not only were institutions able to decide which types of media they'd like included in their templates (such as lists, colors, text prompts, pictures and videos), students were also able to include or omit content as they wished. The template automatically adjusted, depending on the content they chose to upload.






Step 3: A website
Building the project software was a massive undertaking, but it was only half the battle! The next step was to create a website to serve as a the home base for the service.
SEO research led our team to identify the available keyword "graduate virtually," which we eventually named the product itself.
Finally, we moved quickly to build a simple website to promote the service.
Step 4: Marketing assets
Before identifying clients, our team created several marketing assets to engage with, and communicate to potential clients.
In addition a website and explainer video, our team also created digital advertisements, as well as a range of complimentary items designed to demonstrate how the service worked.
To the right, view a few student demos we created for marketing purposes.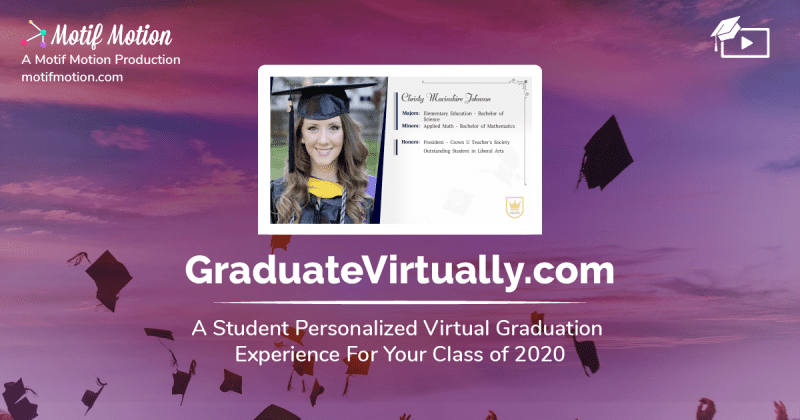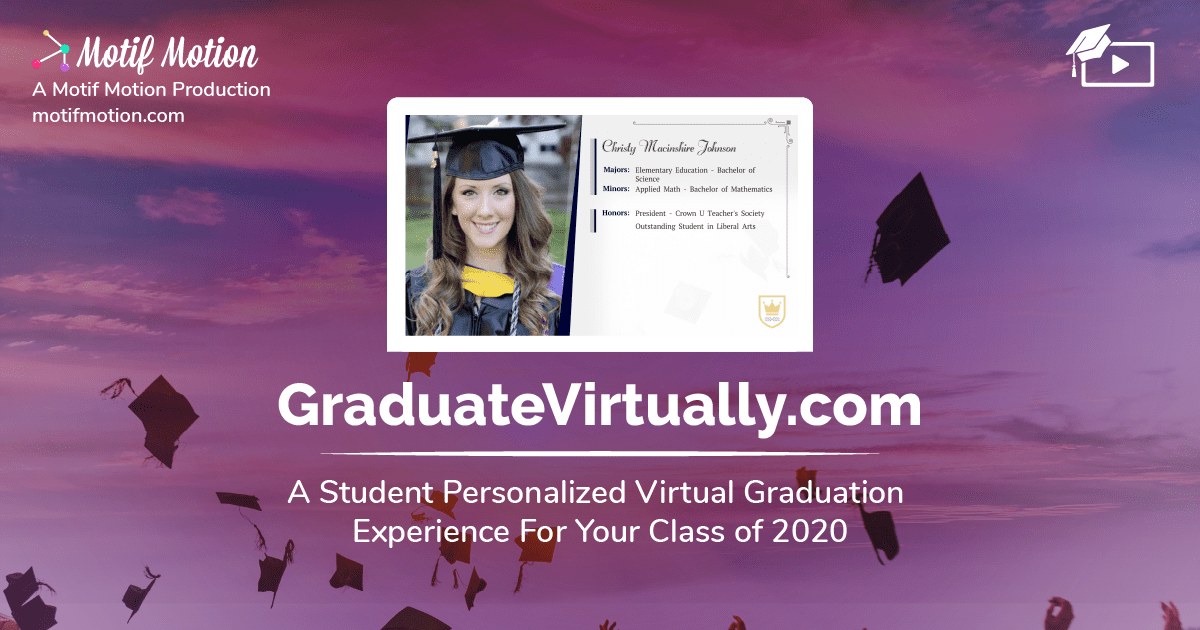 Step 5: Inbound sales via an adwords campaign
With the platform, website, and marketing assets ready, our team launched an inbound Google Adwords sales campaign.
This phase not only included the creation of the ads themselves — but also strategic keyword research and implementation.
Ultimately our campaign averaged a 3.91% click through rate.
Step 6: Outbound sales via data collection and email marketing
In addition to Adwords, our team conducted a parallel lead generation campaign. This involved web-scraping the country for the emails and phone numbers of educational decision makers.
After names, emails, and institutions were collected, our team engaged in a data-clean up phase.
Finally, outbound sales were systematically conducted via personalized emails, follow up phone calls, and ongoing tracking within a CRM.
Step 7: Managing a wave of clients across the country
After creating individualized contracts for every client, our team moved into the project management phase. This consisted of:
Client onboarding, communication, template customization and portal branding, management of submitted student and admin data, and data analysis.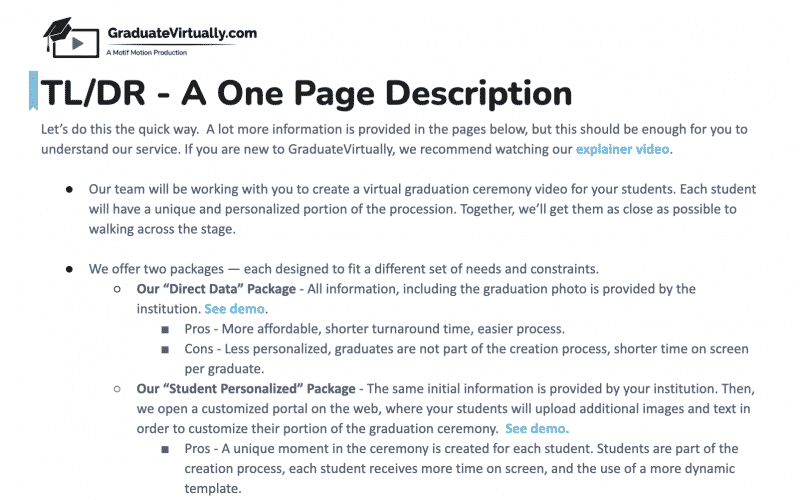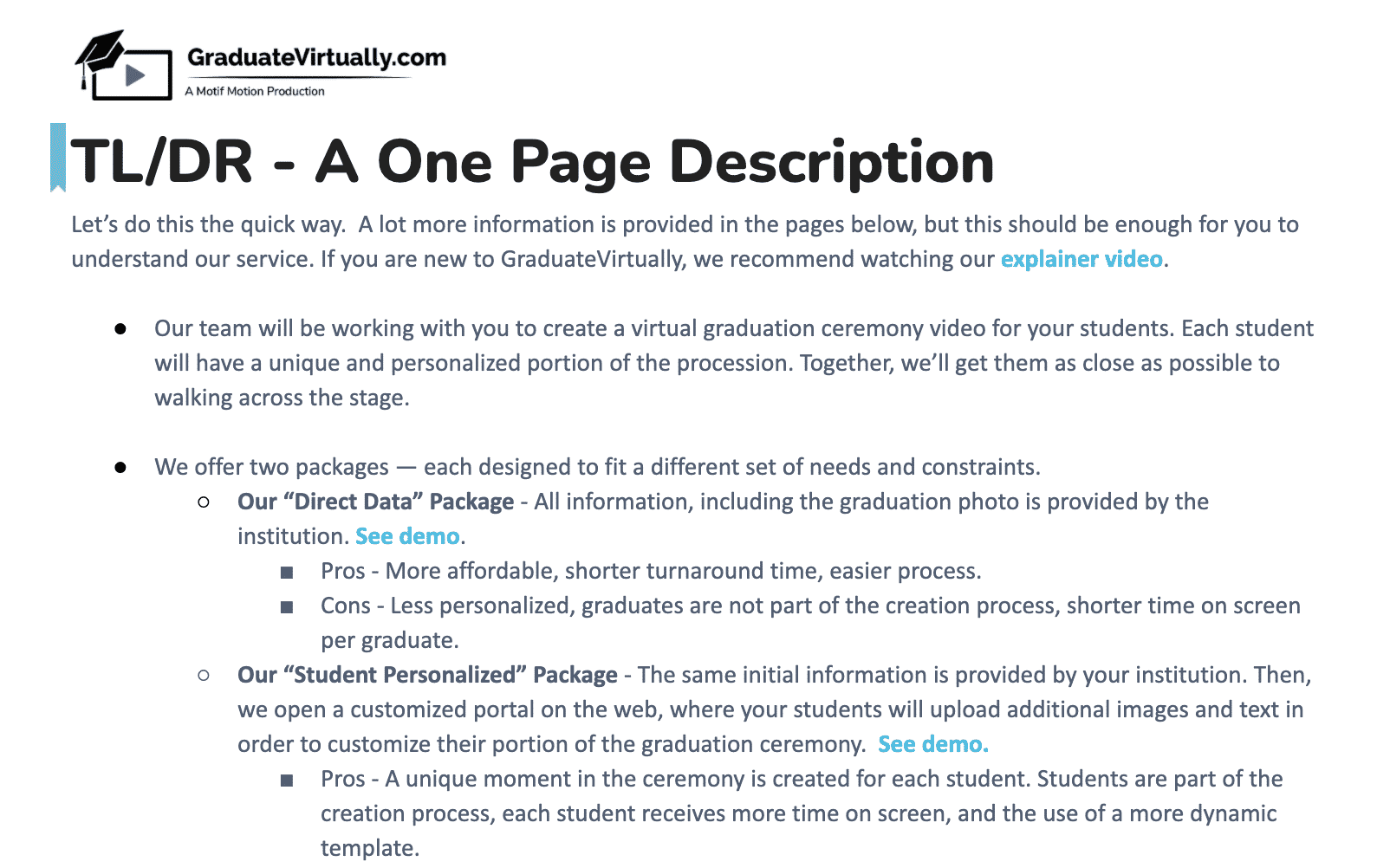 Step 8: Virtual ceremony production
As soon as contracts were signed, our team moved into production.
Production included compilation of institutional video assets, production of the full student procession, and live streaming assistance.

Additionally, Motifmotion provided clients with daily user analytics. This included student data at each "stage of completion" — allowing

administrators to track student progress, and if necessary, reach out to students.
The Results are In!
In a one month span, our small but mighty studio produced over two-dozen virtual graduations, and over 10,000 student-personalized scenes.
While we'd never suggest our virtual graduations could "replace" the magic of a traditional graduation, the vast majority of graduates reported being happy that their institution found a way to creatively re-involve them — making the best out of a difficult situation.
Here's what some of the clients had to say!